What if you knew precisely how to achieve optimal performance for your business?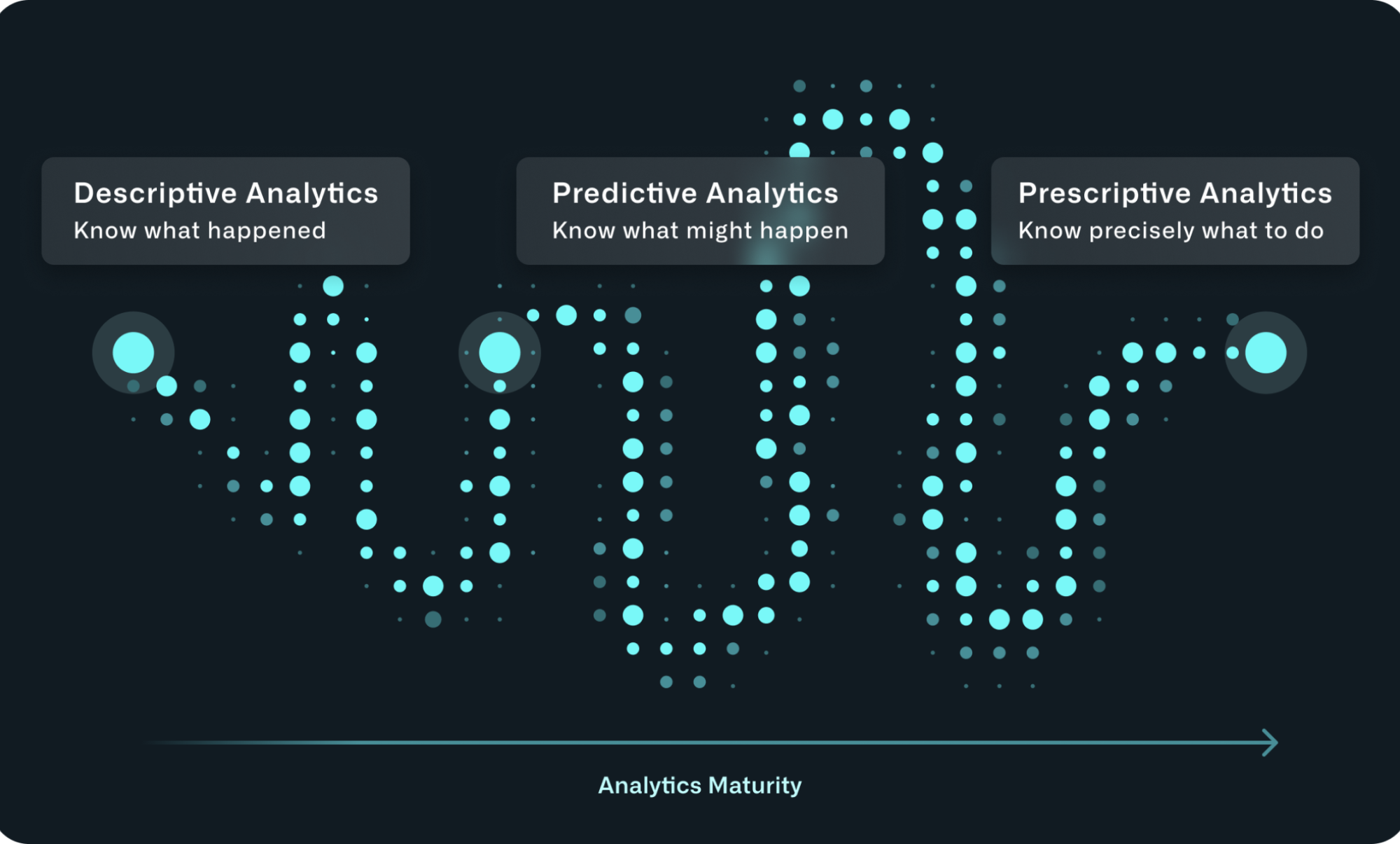 Businesses are complex and hard to improve.
To succeed, leaders need to minimise costs, increase productivity, surpass customers' expectations, while navigating a web of ever-changing risks and relationships.
With interconnected business processes, competing priorities, and constant competition, leaders are overburdened with complexity, pressure and uncertainty.
Attempting to meet performance objectives, leaders turn to data and analytics. However, as the maturity of analytics increases over time, so does the difficulty to realize value.
Consequently, regardless of analytical maturity, leaders find it hard to improve with they have, and often fall back to relying on their instincts.
Traditional decision-making methods leave opportunity on the table.
Many leaders aren't aware that their decision-making methods are outdated and affecting their performance.
While AI and mathematics have evolved at an unprecedented pace, businesses have been slow to adopt modern techniques. As a result, in pursuit of better business performance, leaders must choose between:
Taking a high-level view and estimating ways to improve performance, at the cost of being disconnected from what is happening on the ground, or

Alternatively, using analytics to make precise operational decisions, that are siloed and disconnected from the rest of the business.
Either way, most decisions leave opportunity on the table, and leaders struggle to achieve business objectives with what they have.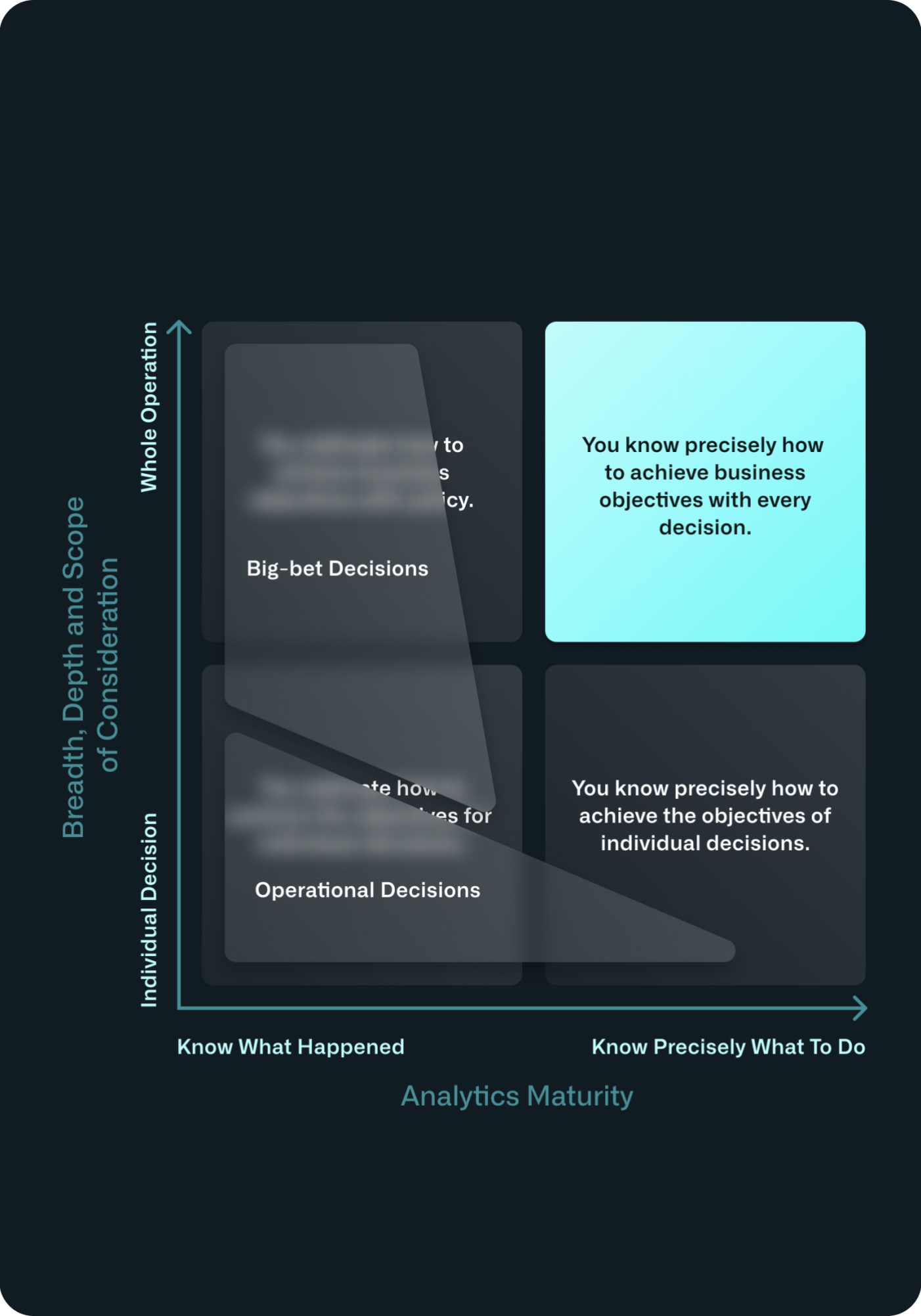 Winning businesses differentiate on decision making.
Leaders could effortlessly drive excellence if every decision made in a business was guided by the knowledge of how to surpass business objectives.
In the past, due to business complexity this hasn't been possible, but with recent advancements in AI and mathematics, from your data, it's now possible to:
Create a digital twin of your business, that understands what to expect in the future; and, using data can be scaled to understand how your decisions will affect your business objectives in the future, and

Furthermore, it's possible to go further and apply advanced mathematics to said digital twin, to calculate the precise actions that will lead your business objectives being exceeded.
We will guide you to achieve the full potential of your business.
We have learnt that there are five distinct stages to achieving the full potential of a business from AI and mathematics.
Elara is as much a process to help you achieve your full potential as it is a tool. We will help you understand:
Which stage is your business currently experiencing?

How can you reach the full potential of your business?
Working with our global partners KPMG and Aurecon, and based on your processes, data and objectives, we will guide you to achieve the full potential of your business.
Driving global business excellence with industry leaders.
KPMG
Our partnership with KPMG helps public and private sector organizations achieve tangible and lasting performance improvement.
---
Visit Website
Aurecon
Our partnership with Aurecon helps businesses and public sector asset owners achieve and maintain quartile one performance.
---
Visit Website
Interested in learning more about Elara? Leave us your email and we'll be in touch.